Welcome to the Poor Clares of Perpetual Adoration Website
"

. . . Heaven upon earth through Perpetual Adoration
of the Most Blessed Sacrament solemnly exposed
in the spirit of Thanksgiving and Reparation
on behalf of the world"
TRANSITUS OF ST. FRANCIS
Will be celebrated on Thursday, October 3rd at 7pm at St. Paul Shrine.
Br. Brian Stacy, OFMCap, will deliver the homily with music provided by the Sisters.
All are welcom. Come remember the passing of St. Francis.
Light refreshments to follow.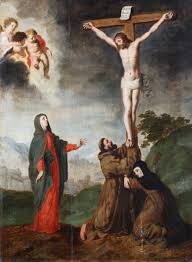 To help the Sisters with their daily needs, and especially with their utility bills,
please click on the "Donate" button below which will take you to our Donation Form.
DAILY SCHEDULE
Silent Adoration of our Lord in The Blessed Sacrament is open to the public
Monday thou Saturday 9:30am-2.30 pm, except during 12 noon Mass.
Sunday Mass 10am

Confessions Monday ~ Saturday at 11:30am

A Holy Hour follows Mass on Saturday which includes the Rosary, Divine Mercy Chaplet
and prayers for families and the world.