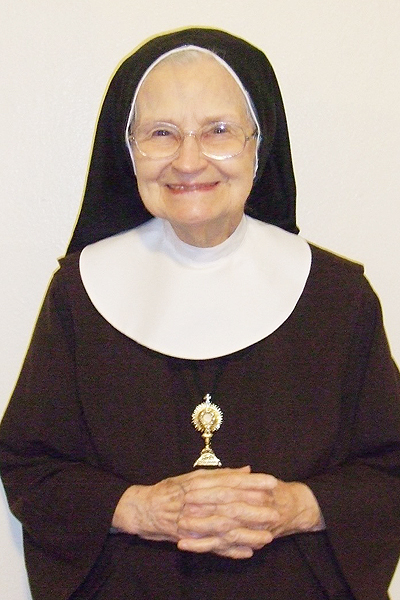 As the world celebrated the Feast of the Presentation of the Lord with candles alight, Sister Mary Clare was presented by her Guardian Angel before the throne of her Beloved Spouse. What a momentous day for such a glorious meeting!
Her birth into the world was also filled with joyful celebration as she gazed for the first time on the world on the first of January 1928 in Whitehall, NY. Her parents, Frederick and Gertrude Mcinnis, rejoiced at her birth. However, the joy was short-lived as her dear father passed away when she was only three years old. Having been baptized a Christian, at the age of eighteen she began formal instructions in the Catholic Faith and received her First Holy Communion in 1946.
Sister Mary Clare entered the Sisters of the Third Order of St. Francis, made her First Profession in 1949 and was initially teaching in New York parishes and then was transferred to Hawaii to teach there.
She entered the Poor Clares of Perpetual Adoration in 1978 devoting her life to adoration of our dear Lord in the Most Blessed Sacrament on behalf of Holy Church.
Sister Mary Clare served as Vicar, took care of Insurance and Mass request paperwork as well as Candle Guild requests. She also was Laundress, Saturday cook and Coffee Preparer for the Monastery.
Sister Mary Clare closed her eyes on this world and opened them to eternity on 2 February 2019. Her devotion to the Lord Jesus and to His Most Blessed Mother over the years in a silent and prayerful way is now being expressed with joy and perpetual adoration in a different heavenly realm. Requiescat in Pace!
DAILY SCHEDULE
Silent Adoration of our Lord in The Blessed Sacrament is open to the public
Monday thru Saturday 9:30am-2.30 pm, except during 12 noon Mass.
Sunday Mass 10am
Confessions Monday ~ Saturday at 11:30am
A Holy Hour follows Mass on Saturday which includes the Rosary, Divine Mercy Chaplet
and prayers for families and the world.
To help the Sisters with their daily needs, and especially with their utility bills,
please click on the "Donate" button below which will take you to our Donation Form.
May Sister Mary Clare Mcinnis
of the Blessed Sacrament Rest in Peace!
Sister Mary Clare entered eternal life on Saturday, February 2nd at 5:15pm
on the Fesat of the Presentation of the Lord in her 92nd year.
She had celebrated 70 years of religious life.
Thursday, 7th February 2019
Welcome to the Poor Clares of Perpetual Adoration Website
"

. . . Heaven upon earth through Perpetual Adoration
of the Most Blessed Sacrament solemnly exposed
in the spirit of Thanksgiving and Reparation
on behalf of the world"